So a few weeks ago, my brother's girlfriend moved in with our family. We had to do a massive (and seriously overdue) cleaning-out of the basement and around the house. I ended up consolidating a lot of my own junk. We kept talking about doing a yard sale, but you never really bring much money in with those things, so we pitched a lot of it.
But yeah, Jessica's living with us. The main reason being that her parents are ripping her off money-wise. I'm not going to get into the details here, but long story short, they were pulling a fast one on her. We're not charging her rent or anything, and she really isn't all that much of a burden around here, but the way Mom goes on and on about it...
Oh well. We'll see how long this lasts. I don't mind her staying here for a while. She and I like a lot of the same things and we get along well. I think Mom makes a big deal over nothing, really.
*tangent* Not much was done for Labor Day. I had a day off, and I tried in vain to re-figure my wiring setup for my TV and my DVD/VCR and my Blu-Ray players with my adapter because I'd like to be able to record stuff (like "Regular Show")....and now I have no way of watching my DVDs or tapes because I got utterly confused in the process. Kevin gave it his best shot, and
he
got confused as well. It would help matters immensely if I had a more modern TV with a normal setup in the back. Kevin says he has a spare newer TV from when he was still living with his dad just sitting in his closet. I told him he doesn't have to just let me have that and I would just make do with this till I can get a new one. So we came to an agreement. He said he'll let me use that TV so I can be able to watch DVDs until I get a new one. (And TVs will be going on sale in a couple of months anyway when we get closer to Christmas.)
In an ironic twist, the "Rage Against the TV" of "Regular Show" aired yesterday after I was having my TV problems.
*tangent* I still don't like my job. What else is new? Trying to keep up with my work blog and doing my best at writing that book. I've fallen into a rut. Working on my art is taking up a lot of my time. I made a vow that I'm going to go the next 30 days trying to get at least
some
thing drawn. And South Shore Arts will soon be starting up another round of classes so I can brush up on my skills, so I have to keep my eye open for that.
*tangent* I could cry. Alton Brown just tweeted that they wrapped up the last episode of "Good Eats." But he's moving on to new projects, and as long as we have the Cooking Channel, "Good Eats" will live on. As long as I have my books and DVDs, I'll be good.
*tangent* On the flip side, "My Little Pony: Friendship Is Magic" will be starting up on the hotly anticipated season 2 next week! And JG Quintel just announced that season 3 of "Regular Show" will be airing in a couple of weeks as well. (WOW, that was fast.)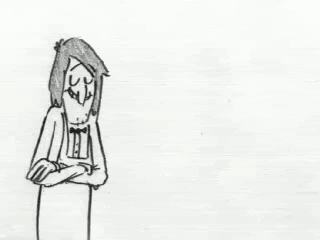 (Anyone want to help me turn THAT into an LJ icon? I'll love you long time if you do.)
*tangent* Mom goes in to see the doctor for her test results next week. Keep your fingers crossed for her.
*tangent* Now is the time of year where I have to start thinking about what the hell I'm going to do for Halloween.
*tangent* I'm going to get started re-painting my bedroom walls next week. I'd LOVE to be able to do a big mural all over them like Rapunzel did in
Tangled,
but no. If I were going to be living here forever, I wouldn't have a problem with that. But I aim to be out of here by next summer, so I'm just going with a nice neutral. Mom says I should get one gallon because "that should take care of the whole room," but I call bullshit on that. One gallon was NOT enough last time we tried painting in here. For crying out loud, one wall in this room is
still
unfinished!
And that's it on my end. Later, dudes.